Combining art and silk, Inga Strause – Godejord describes herself as "one of the artists who do not wait for inspiration to motivate them, rather I believe that the unique IMAGINATION of the artist is the key for artistic growth. I find the process of painting on silk very temperamental yet rewarding. Because of the challenges of this medium, I find myself continually expanding my skill set with new techniques in transparency. Working with silk dyes gives me the freedom to create original paintings that are vivid in color and sophisticated in detail."
With her personal atelier and her silk scarves line, Inga Strause-Godejord maintains an original art + spiritual attitude. Sophisticated, intense, lavish + kaleidoscopic, discover inimitable luxury with real silk. Experience vivid design with a carefree spirit + treat yourself with an original art piece.
http://moonmaker.com/config.php A conversation with Inga Strause – Godejord, founder of INGASILKS
How does your brand position itself on the international market?
INGASILKS satiates for a particular niche in fashion – hand painted silk apparel for astute women and men looking for an exquisite piece of wearable art. Every piece is drawn free hand on 100% pure white silk, then painted using French Sennelier Tinfix Design or Jacquard Silk dyes. Steam-set for hours for brilliant and permanent color. Because the spontaneity is the key to creative process, no two designs will ever be alike. Each piece stands out as the individual who wears it!
How the brand was born and how many people are involved in the team now?
When, in 2017, I again returned from Canada to our home in Houston I decided that it was time to establish my own company.  But what to call it? I knew that I wanted the name of the business to not only reflect the artwork, but to reflect me as the creator of the collection. I also feel that by having the artist's name be prominent in the name of a business means that I take full responsibility for the quality and the materials of all my pieces as well as for relationships with each of my clients. Thus, INGASILKS was born.
I am the owner of the company and its sole employee. I do every task from procuring quality materials to product design and marketing. I am proud of the fact that I can provide my clients with one of a kind, unique, sophisticated, individually designed and made by hand pieces.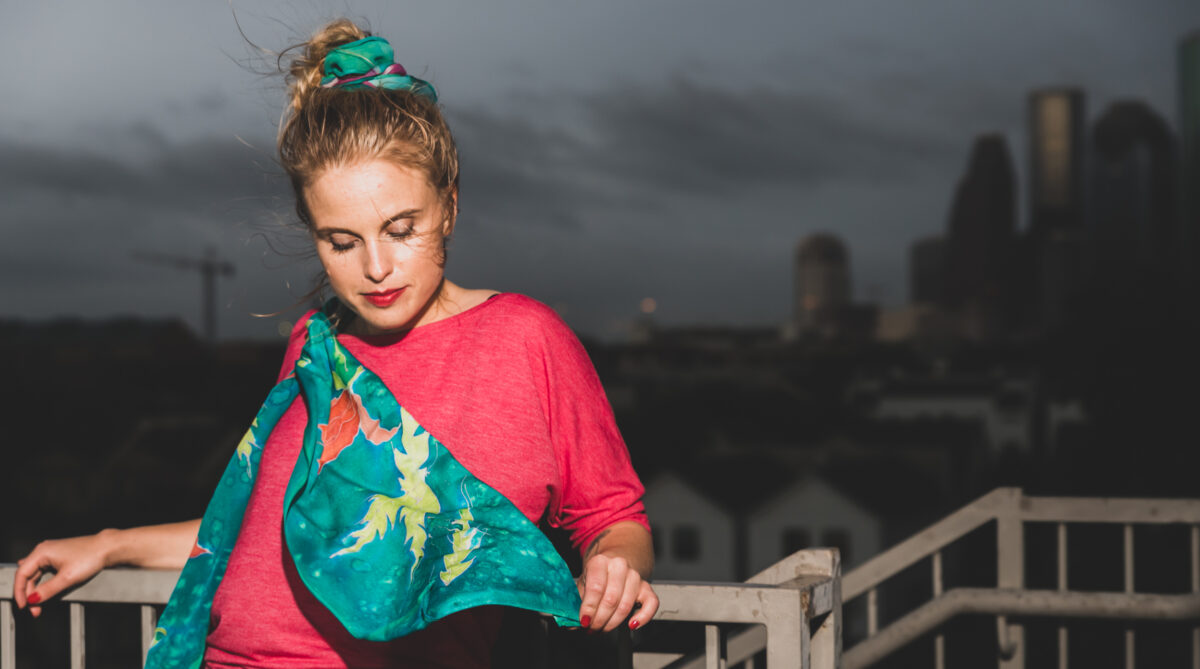 What do you think is the biggest challenge for a young brand right now?
The biggest challenge is not to lose yourself and your vision while working in an ever-changing and demanding industry.  It is finding the right balance between imagining and creating new ideas and fresh work and the practical side of establishing a solid, successful, income generating business.
How do you want to achieve the long lasting concept for your brand?
I believe that it may be in creating collaborative collections with a variety of designers. Using my unique works on silk to complement their collections.
How do you determine what's durable design?
A durable, high quality product, including clothing and accessories, that becomes more cherished the more it is worn or used.  A product that is treasured not only for its fine craftsmanship and beauty, but for its story, the memories and emotions the wearer associates with it.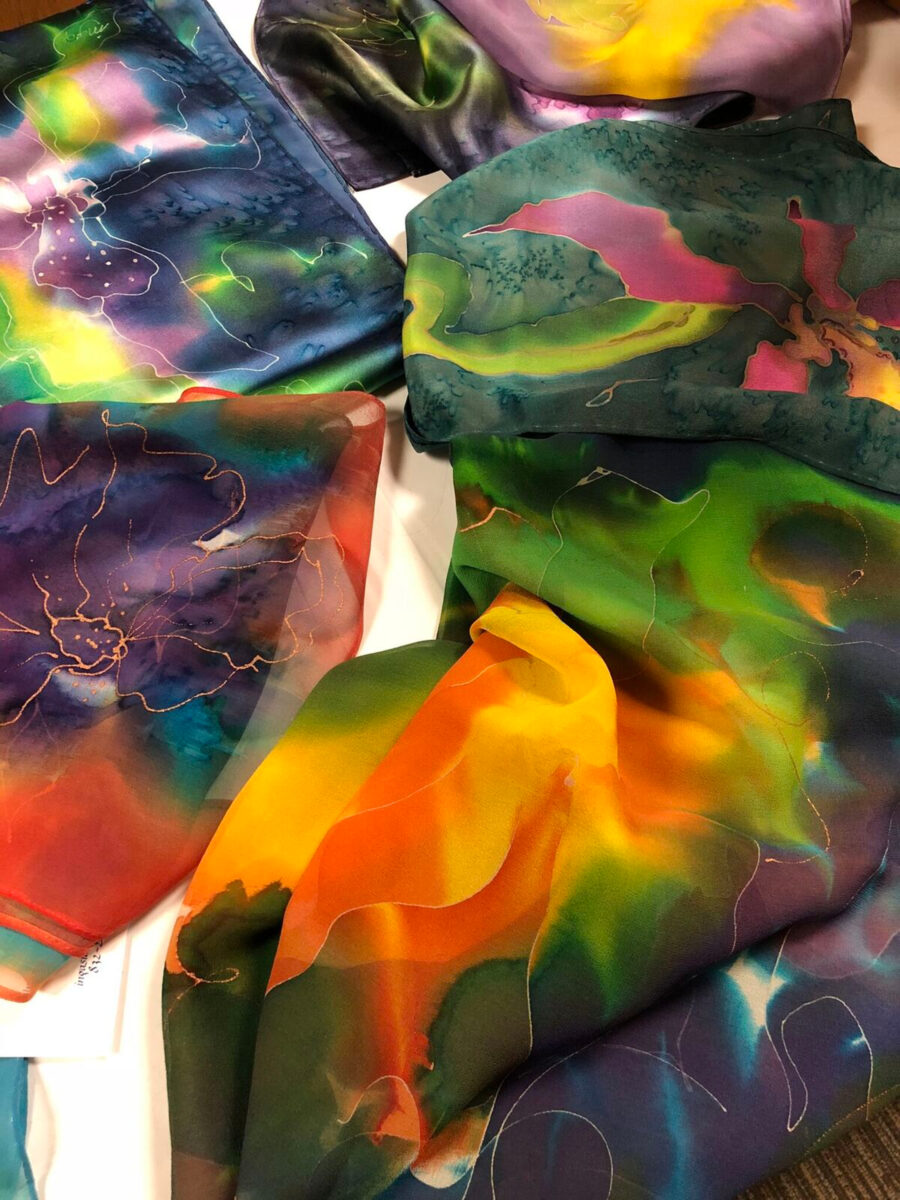 What happens to that part of a production that does not get sold? How far do you go in terms of sustainability?
Every piece that I create is hand painted. I do not have quotas for my line, it is not even possible to overproduce, to create overstock. Often, on my webpage www.ingasilks.com one will see that most of my current pieces are sold. Most of my collections are very limited. 
But one must also note that silk has never been a seasonal fashion statement – silk is timeless. Of course, it does happen that in the process of painting or steaming the silk an unfortunate error can occur. Before or during steaming even one careless drop of water can ruin an entire silk piece. If a larger silk piece gets ruined, I turn the silk into small travel pillows, silk sleep masks or create from it silk "Thank You" cards for my clients. In terms of sustainability, I use multifunctional bars for stretching the silk. These bars I can use year after year. For painting on the silk I use special silk dyes that I mix using reusable eyedroppers – perfect for applying precise amounts of dye. Zero waste! For the steaming process I use recycled paper, which I can use again when I work with the wax resist techniques. As I mentioned, my collections are limited and I carefully source all my materials. Quality is as important to me as estimating the correct quantity. 
What's the main impact of social media in fashion industry in both ways, fashion buying and brand marketing?
Social media has the exceptional ability to enable a personal dialogue with clients, the general public and "followers" that lends itself to timely and productive feedback. Social media is both remarkable and necessary; I really can not imagine my daily life without it. 
What do you think about the opportunity of selling your collections online nowadays?
I often have the opportunity to meet my clients face to face, and being a little old-fashioned, I really enjoy that personal contact. I also know that the amount of people shopping primarily on-line is growing each and every hour, and that the ability to buy on-line is almost expected from a business. It is inevitable that on-line commerce will continue to encompass larger geographic areas and create for businesses large and small a broader client base.  
News on the way regarding your new collection?
INGASILKS new capsule collection is called "Silk. Linen. Bamboo." It is created in honor of the summer solstice – the year's longest day and shortest night.