The research from
jewellerybox
has analyzed the numbers to reveal
the world's most fashionable cities.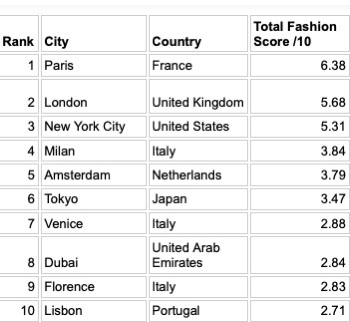 Could the top spot really have gone to anywhere else? The birthplace of haute couture and the home of some of the biggest fashion houses in the world, Paris is rightfully known as one of the capitals of the fashion world. It ranked highly on a number of factors, including the number of high fashion brands and fashion schools in the city.
The research also reveals the best city for:
 High fashion brands – London (69 fashion houses)
 Fashion Jobs – Amsterdam (51.2 job listings per 100,000 people)
 Fashion Magazines – Tokyo (17 fashion magazines)
Fashion Schools – London (7 fashion schools)
 Shopping – Venice (442 "shopping" activities (169.4 per 100,000 people) )
#streetstyle Instagram Posts – Dubai (476,287 hashtags)
You can see the full research
here
.