Billie Eilish shows off a different look this month on the cover of British Vogue, a portrait of artfully crafted provocation. The singer once identified by her shock of green hair has gone blonde and full bombshell, swapping her trademark sweats for a more glam look. She wears a pink Gucci corset and skirt over Agent Provocateur undergarments, accessorized with latex gloves and leggings.
According to Edward Enninful, the magazine's editor in chief wrote in the June issue that this was Eilish's choice of garments. "What if, she wondered, she wanted to show more of her body for the first time in a fashion story?" Mr. Enninful recalled. "What if she wanted to play with corsetry and revel in the aesthetic of the mid-20th century pin-ups she's always loved? It was time, she said, for something new."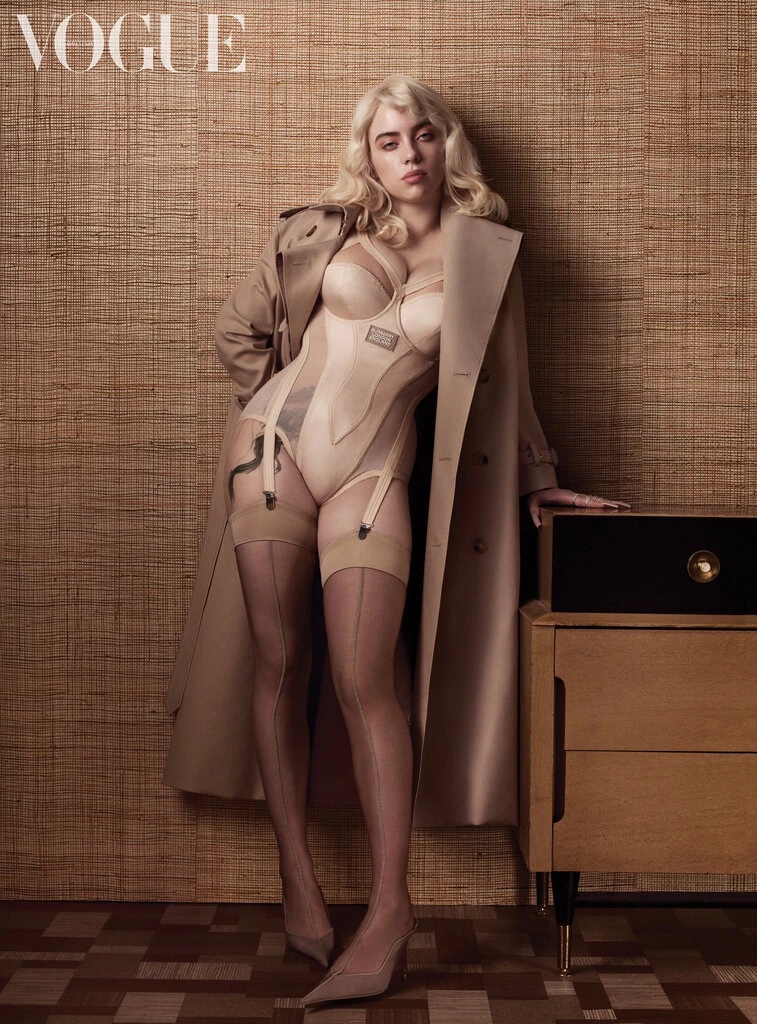 In the interview, she said that the corset was intriguing to her because of its look, but also due to the fact that it is restrictive. "If I'm honest with you, I hate my stomach, and that's why," Eilish said, adding that she thinks that is "shallow." She said that her body "was the initial reason for my depression when I was younger." Eilish also discussed sexual misconduct and the treatment of women in the entertainment industry regarding body image.
Eilish discussed her new single, "Your Power," which focuses on people who abuse power to take advantage of others. She said that she thinks about a line in her 2019 single "When I Was Older:" "I'm still a victim in my own right/But I'm the villain in my own eyes."
"I wanted to say that it doesn't matter who you are, what your life is, your situation, who you surround yourself with, how strong you are, how smart you are," she said. "You can always be taken advantage of. That's a big problem in the world of domestic abuse or statutory rape – girls that were very confident and strong-willed finding themselves in situations where they're like, 'Oh my god, I'm the victim here?' And it's so embarrassing and humiliating and demoralizing to be in that position of thinking you know so much and then you realize, I'm being abused right now."
She added that she knows complaining about fame is not relatable, but with fame, she said, and especially for men, "There's all these people who are incredibly vulnerable and would honestly do anything you say. That's a crazy feeling. Nobody should be given the power that we're given."
The June 2021 issue of British Vogue, goes on sale Friday.