From period pieces to modern sitcoms and teen dramas, TV has always been a rich source of fashion inspiration, no matter what your style.
But which TV shows are the most influential on our wardrobes?
Money.co.uk has analyzed Google search data from the last twelve months to discover the TV shows that inspire our fashion choices the most.
You can view the research in full here: https://www.money.co.uk/broadband/inspiring-shows
Top 10 TV characters that influence our wardrobes the most:
Rank Character TV show Annual searches
1 Rachel Green Friends 448,200
2 Maddy Perez Euphoria 347,500
3 Blair Waldorf Gossip Girl 194,400
4 Monica Geller Friends 171,500
5 Cheryl Blossom Riverdale 136,900
6 Rue Bennett Euphoria 126,000
7 Villanelle Killing Eve 113,900
8 Veronica Lodge Riverdale 95,800
9 Sabrina Spellman Chilling Adventure of Sabrina 91,800
10 Alexis Rose Schitt's Creek 87,400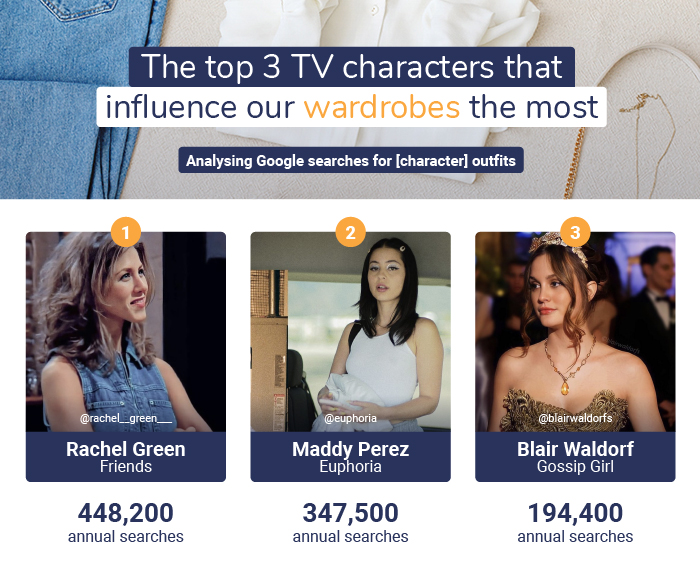 Rachel from Friends takes the top spot as the character that inspires our wardrobe the most, even after all these years, with just under half a million people last year searching for tips on how to dress like Jennifer Aniston's Rachel Green. Friends also rank the second most influential TV show for our wardrobes, with 694,000 annual searches.
Top 10 TV shows that influence our wardrobes the most:
Rank TV show Annual searches
1 Euphoria 1,107,700
2 Friends 694,200
3 Gossip Girl 360,100
4 Emily in Paris 336,200
5 Blackish 260,500
6 Riverdale 249,340
7 Peaky Blinders 214,400
8 Schitt's Creek 186,620
9 Killing Eve 133,300
10 Chilling Adventure of Sabrina 117,900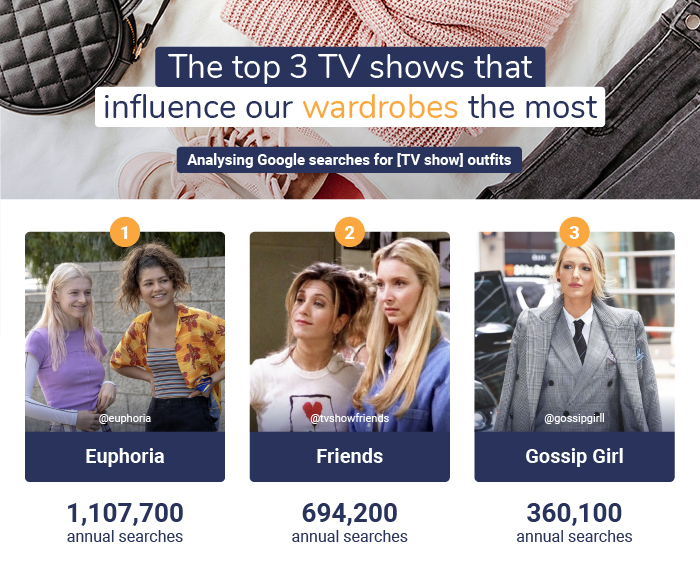 Euphoria is the most influential TV show on our style, with each of the Gen Z cast members having their own distinct style to take inspiration from. Maddy Perez is the show's most influential style icon, with over 347,000 people searching for how to emulate her look in the last year, ranking her the second most influential TV character on our wardrobes.
Gossip Girl was almost as well known for its clothes as its drama and, despite finishing 8 years ago, the show's fashion saw 360,000 searches last year. Blair Waldorf offered the most style inspiration (194,000 searches), from her iconic headbands to chic preppy outfits, Blair ranks 3rd most influential TV character to our closets overall.
You can view the research in full by clicking here.