Lisa F Pliner – noted model, designer, muse turned podcast host – debuts the 5th season of her hit podcast "Over 40 & Loving Every Minute Of It" with guest, Miranda, the official lipstick reader!
What??? Yes, Miranda has spent her life finding meaning in the imprints our lips make when we kiss someone or something…
"Did you know that our lips have many words to say about us," starts Lisa Pliner. "they are our expression, they are our life, their print really tells a story." This is just the beginning of the message that a kiss communicates both literally & figuratively. In getting your kisses "read", Miranda has her subjects kiss three times. One represents the past, one represents the future & the third one takes place after the reading to represent the changed state of the subject's kiss once the insights have been learned & taken to heart. There are also cards that are drawn. The kisses & cards all come together to form the overall reading.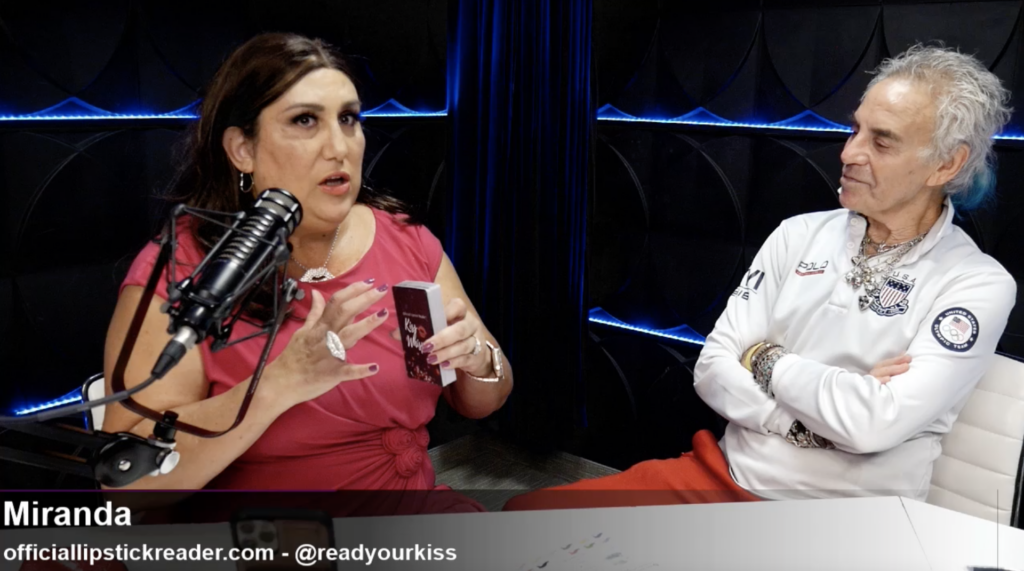 There's more, but you'll have to tune in to get the full story!
Miranda begins by reading creative mega-star, the iconic Donald J Pliner before moving on to the host herself, Donald's wife & muse, Lisa. The reading left Donald speechless & smiling with wonder as he's nearly certain that the reading was a "fix" from Lisa sharing his story. However, take it from someone close to both subjects, there was no preliminary information shared with Miranda prior to the reading. Lisa emphatically answers, "NO! I told Miranda NOTHING about Donald in advance. Sure you can learn about Donald online, but she would have no way of knowing what either of us were going to ask in the moment. Yet… Miranda literally hit the proverbial nail on the head with both of our lip readings!"
"Over 40 & Loving Every Minute Of It" is the brainchild/creation of Lisa F Pliner who realized during the pandemic that she & the people around her were all doing some of their most amazing living in their 40's & 50's. She thought "someone needs to share our stories!" Her hope was to inspire others to live their fullest no matter their age. Her message has caught on… last season, her shows got over 11,000 downloads & rising with every passing day!
To view the Season 5 Debut Episode, "Sealed With A Kiss", click on this link.
The full library of "Over 40 & Loving Every Minute Of It" can be viewed at the following link:
Lisa F Pliner Seasons 1 through 4
Past guests highlights:
Donald J Pliner (Iconic Shoe Designer)
Thom Felicia (Queer Eye star & Interior Designer)
Suzanne Somers (Actress & Fitness Guru)
Vivian Kelly (Writer & Influencer @TheFashionHistorian)
Chris Royer (Halstonette)
Kevan Hall (Fashion Designer)
Remo Tulliani (Fashion Designer)
William S. Gooch (Editor in Chief of Fashion Reverie)
SUEDE (Project Runway)