Sibiti Laura Rudovic is the owner of http://offsecnewbie.com/page/2/?dumpmecheck  Laura's Boutique & Bridal and fashion designer behind  Dream Couture located in New York. Laura is known for her trendy gowns made with very luxurious fabrics and immaculate hand beaded work. Originally from Montenegro, Laura Grew up as a fashionista and when she was five years old, she cut her mothers wedding gown to fit her for her 6th birthday while she made her entire family all watch her dance.
Laura continuously sketched wedding gowns and dressed up all her cousins as brides and her fashion career began in 2014 when she opened up her first boutique selling womenswear handcrafted gowns. In 2015 she sold out her first fashion show in White Plains NY. The following years she went and debuted her evening collections for Brooklyn Fashion week, Bronx Fashion Week and Atlantic City Fashion week. Laura then got the attention of celebrities where she had the chance to style them for red carpet events, music videos, live performances and pageants. In 2021 she had expanded her boutique into a two floors building featuring evening gowns on the first floor and bridal gowns on the second floor. The same year in 2021 Laura debuted her new collection called Dream Couture which consists of three bridal collections (Angel, Skylux and Couture)  and an evening collection. Since her collection was debuted it has been featured in Manhattan Magazine, Moevir, Bravo and worn by many celebrities. Laura's Career as a business owner and fashion designer is just the beginning and has already started to be a known household brand in New York City.
INTERVIEW WITH BRIDAL DESIGNER LAURA RUDOVIC
Why did you choose bridal design and how old were you when this happened?
I chose bridal designs at five years old when I decided to take my mothers wedding gown and cut it up to fit myself for my 6th birthday.
Why did you choose New York City for Laura's Boutiques + Bridal?
I chose to be in New York because it is the fashion capital of the world.
What do you think was the biggest challenge for you during the pandemic situation?
The biggest challenge was the fact that I had to close my entire store front and was not allowed to have customers.
How do you want to achieve the long-lasting concept for Laura's Boutiques + Bridal? 
The long lasting concept would be to wholesale my brand into stores worldwide.
How do you determine what is durable design? What happens to those pieces that didn't get sold? 
All of my designs are handmade, crafted and durable and I have sold every single piece in the store.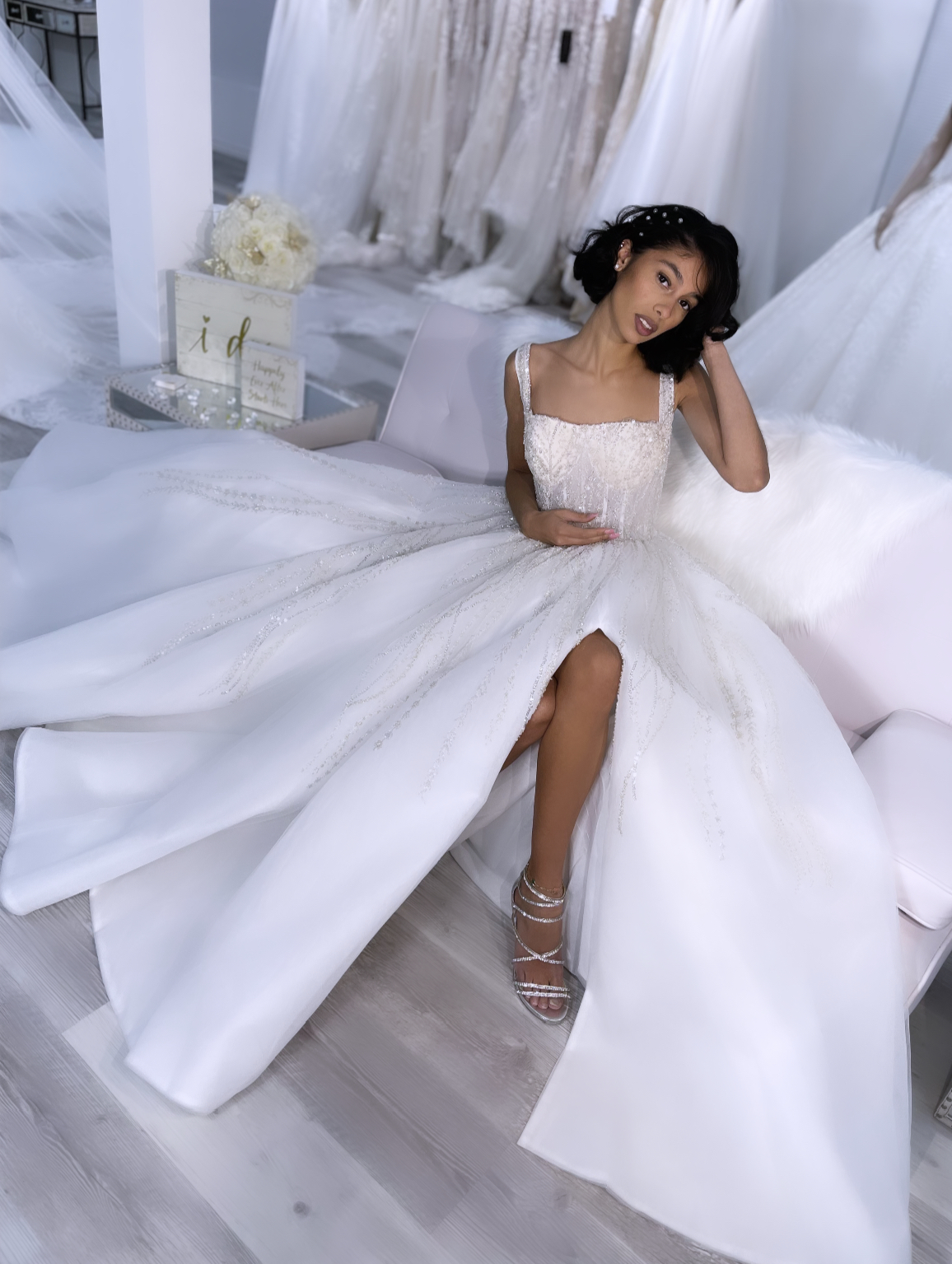 How far do you go in terms of sustainability? Where could you serve as a role model for others?
I am currently working to be more sustainable and would love for others to follow as well.
How can the bridal industry nowadays can help more creatives?
The bridal industry can help by letting designers get all their creativity out through bridal designs.
Can you tell us a little bit about your references for the last collection?
My last collection was referenced from my passion for art and music.
How important is your team for you and how many people are involved?
My team is very important to me. It includes myself and my husband.
What does Laura's Boutiques + Bridal need right now as a fine art brand in order to achieve the next goals?
We need to be able to showcase our amazing art pieces of designs to customers and stores worldwide.