Featured: odo Lounge @odo.lounge.nyc by @odo.nyc
Writer: Laur Weeks @Laur.Weeks
PR: Bullfrog + Baum @bullfrogandbaum
For: VPRCOMMAG @vprcommagazine
Forever in search of authentic global cuisine in the heart of America's most bustling city, I recently paid an exciting visit to the brand new odo Lounge in New York City to try their lauded modern Japanese-inspired small plates and Japanese-influenced cocktails. The Lounge opened April 8th, 2023 and is built as a space dedicated to fine and rare Japanese whiskey and spirits, featuring soft lighting, a speakeasy-style entry, Japanese-inspired architecture and literature, and elevated Eastern minimalistic interior design. It is the latest inspired addition to a string of culinary and cocktail creations in NYC, curated by award-winning chef Hiroki Odo of the eponymous Michelin-starred odo restaurant. Hiroki Odo's growing collection in the Flatiron now includes the new odo Lounge, The Gallery (his art gallery doubling as a chic dining space,) HALL (an intimate bar dedicated to craft cocktails and Japanese-Western inspired dishes,) and the original flagship odo restaurant showcasing his famed kaiseki cuisine for an encompassing cultural world built in by Odo right in the heart of NYC.
As a prior industry bartender and guest who has occupied a seat at some of the most acclaimed bar counters in the city, my standards for a quintessential bar experience are high. The true test of a good bartender and upscale establishment lies often not in the most complex of cocktail menus, but in the quality basics. My visit to odo Lounge started off strongly with a perfectly presented traditional odo martini, crafted with Haku vodka (rather than the alternate Roku gin) and beautifully balanced with an artful lemon twist. Our evening bartender, Bill, was exemplary in his knowledge of both odo Lounge's extensive Japanese spirits collection and his warm conversation with us felt as if talking to a friend from the start. During a lighthearted discussion on what specific traits most make up a quality cocktail, Bill enthusiastically gave us his take: "I think that's part of the charm of it – adding that dangerous (liquor) component to everything else alongside those unique culinary flavour aspects" within a quality drink's fresh ingredients mixture and staff execution. Intrigued, I inquired which of the featured six seasonal cocktail menu selections was most popular with the Lounge's clientele.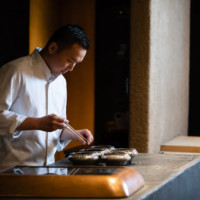 On Bill's recommendation, we tried the two most popular choices of Iribancha Old-Fashioned and Sakura Collins paired with shareable snack dishes of Shichimi Gogo Chips and Sasho Okaki. The Ichibancha Old-Fashioned presented a sharp, crisp alcohol topnote followed by dark cherry mid notes with a pleasant aftertaste of smokiness that lingered in the throat. The interpretation felt bold, rich, and slightly aggressive in the best way – more of a culinary complement than a showstopper, the Old-Fashioned was a wonderful opener that reels the drinker in and prepares the palate for a meal. In contrast, odo Lounge's Sakura Collins held strong notes of citrus and ginger that rolled around on the tongue, with a clear brilliant olfactory note of Mandarin brought to the forefront by its garnish. The Sakura Collins felt almost medicinal in taste and rang reminiscent of traditional Eastern remedies. The brilliant lemon-ginger notes were accompanied rather than dulled by the mid note of honey in the drink, which took the edge off the bright taste to make a shockingly drinkable and invigorating refreshment option for the warming weather as we head into summer in NYC. Our accompanying bar snacks were earthy and spicy with a light crisp texture. Toasted Japanese mochi rice cracker with sansho pepper and a fried burdock crunch with a soy-sauce-marinated flavour that melted in the mouth like a flower petal made for addictive light bites that felt ideal for pairing with the inspired seasonal drink selection at odo Lounge.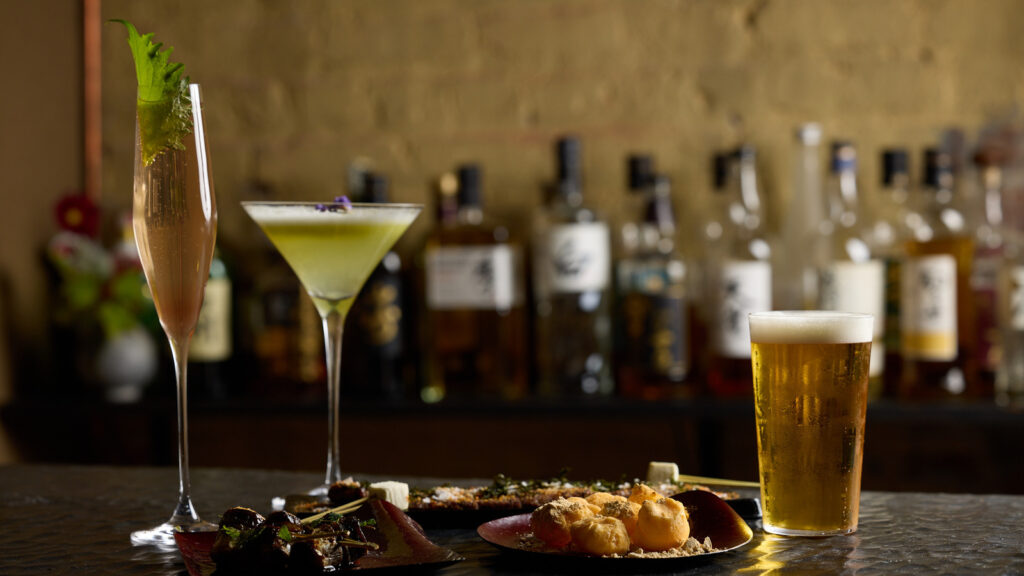 Between quality craft cocktails with an authentic Japanese flair and a wide selection of sought-after whiskeys from the likes of large names Beam Suntory and Nikka to small batch producers including Cichibu and Shinshu Mars, odo Lounge presents something for every discerning or curious whiskey appreciator. For those who prefer other fine and rare spirits such as gin, the Lounge also stocks lauded craft gins such as KI NO BI and Kyoto Dry Gin, amongst others. Jordan David Smith, formerly head bartender at the two-Michelin-starred Atomix and Le Coucou, is the brilliant mind behind the curation of odo Lounge's beverage menu and brings his masterful expertise and precision to the Lounge. Drinks and paired plates at the Lounge are curated to rotate periodically with currently available in-season ingredients, ensuring a fresh experience year-round. Interested in exploring odo Lounge's uniquely built cultural world for yourself? The exclusive speakeasy-style lounge is open Thursdays, Fridays, and Saturdays from 5:30pm to 9:30pm for last seating.
You can find more information about the Lounge and book a reservation online at odo Lounge. To keep up with seasonal menus and announcements on social media, visit @odo.lounge.nyc and @odo.nyc. The writer would like to thank Bullfrog + Baum and the odo Lounge staff for their warm hospitality during our exploratory visit.