By Katherine Bykovets
Eco-friendly trends called the shots at spring/summer 2021 fashion shows – shifting the fashion industry towards sustainable production and encouraging the creatives to join the climate-positivity movement. A team of inspired artists carried an exclusive editorial to deliver sustainable fashion from the heart of Paris.
An eco-conscious philosophy of the editorial found the backing in the ethereal location – Pink Mamma restaurant. Feasting our eyes on the avant-garde interior of a big and friendly trattoria on 4 floors Pink Mamma, we can't but awe at how harmoniously brass and marble, greenery and glass, vintage and modernity blended in a pure rapture! Photographer Olga Gasnier sparks viewers to delight in the sublime aesthetic of the city shot from the restaurant's rooftop.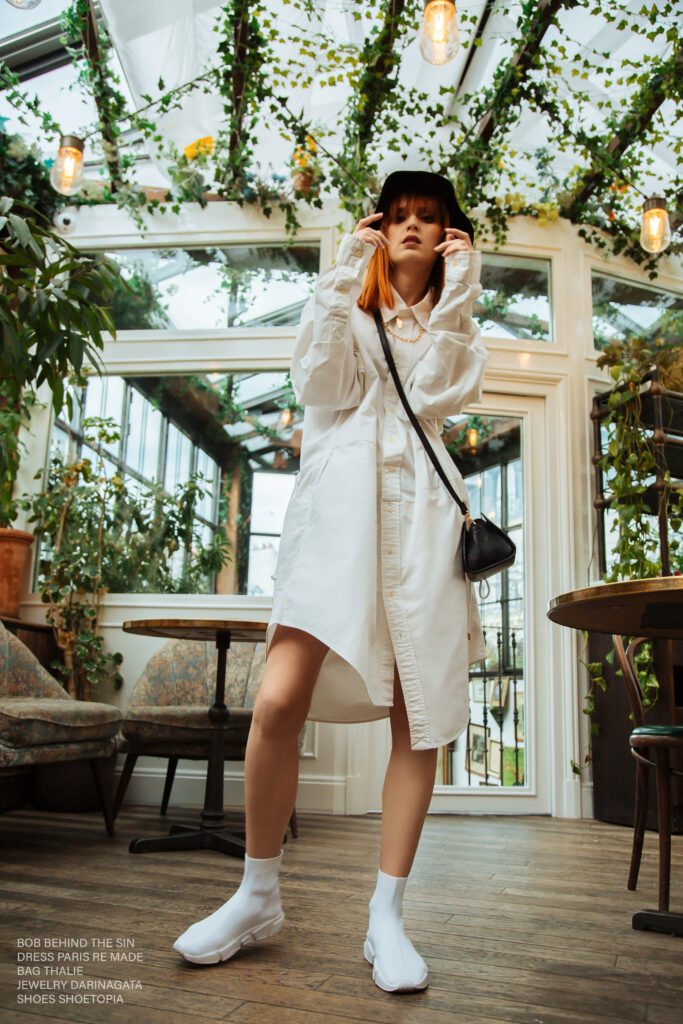 One of the sustainable brands that the model Agatha Maksimova, prepared by a makeup artist Kateryna Zozulia, wears in the series is the recycled and recyclable label Anthropocene that composes urban and versatile items of relaxed sports silhouettes to satisfy the need of fashion lovers for comfort and ethics. Their eco-friendly clothes are made in France in a short circuit approach.
Anthropocene also brings together those who share its convictions around artistic, convivial, and socially committed events. The other eco-aware brand depicted in the editorial is Paris re Made. Its main ambition is to alter perspectives on fashion values by turning vintage garments, high-end luxury pieces, and deadstock designer fabrics into re-designed non-gendered pieces to be worn for years to come. At the shooting, a unisex T-shirt and a stylish hat from the Parisian vegan brand Behind The Sin perfectly complemented the out-of-box skirt and functional chemise from Paris re Made.
Behind The Sin uses 100% cotton and exclusive photographs of David Djian as a print to provide one of a kind experience. Esson Paris also makes its contribution to the reducing of carbon footprint by the industry.
Creating sustainable recycled garments Esson Paris embraces beauty in all shapes and sizes from XXS to 3XL, celebrating both: one's uniqueness and ethical values.
Curating Parisian ecological and exquisite wardrobe one can't do without accessories. Thalie – an innovative and digitally advanced sustainable handbag brand – offers a new luxury experience through incomparable designs, inspirational choice of colors, and organic materials like salmon and cactus leather.
Victoria Paris – a luxurious handbag brand – expresses its ecological integrity through ethical production methods and 100% vegan material – cactus leather. The label eloquently narrates a story of a contemporary woman, fulfilling her need for authenticity, uniqueness, and sustainability.
The other sustainable handbag brand featured in the editorial is the elegant and harmonious label Dola which creates its gorgeous sustainable posh handbags from raffia, cotton, and flax. Inspired by history, art, and nature, Dola adds the poetic allure of the early 20s to any look.
Along with these deluxe green labels, the editorial also represents the first French fragrance jewelry brand – Maison Bo, which presents olfactory jewels that you can share your signature scent. Reinventing the way we wear perfumes, Maison Bo supports the French heritage and know-how while preserving an ethical approach to production.